They make me think of
Salad Fingers
, and also lichens.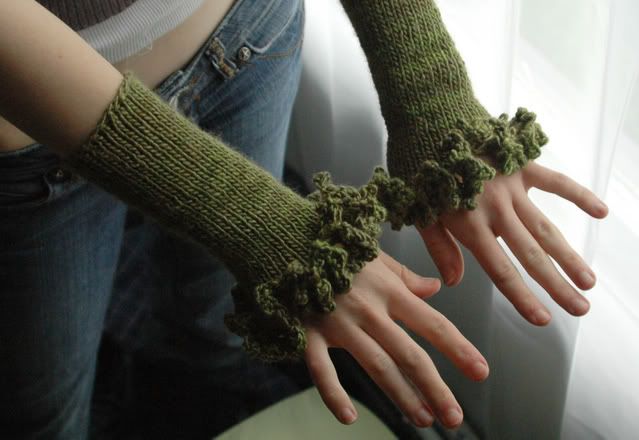 I love this yarn, it's really silky (I thought it was pure silk while I was knitting with it, but I'm wrong) and pretty.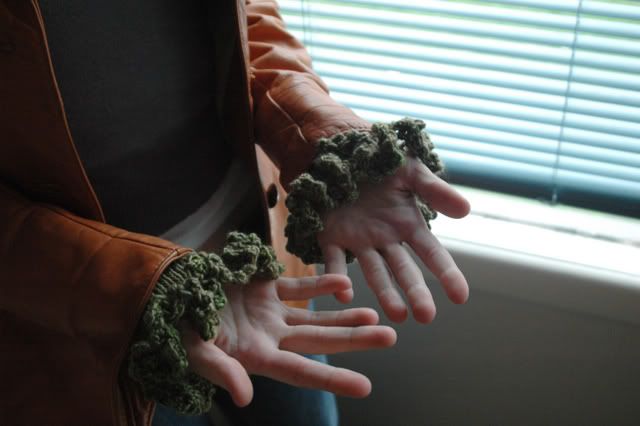 They look neat under other things.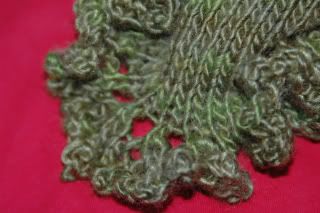 Close up of the "lace" detail...if you can call it that.
Salad Wristers
Yarn: Artfibers' Ming, Color 6, 1 ball (but if you choose to make them longer or wider, you will need more, as they come very close to using the entire ball.)
EDIT: I have realized, far too late, that Ming is sold by the yard, and I have no idea what size put up I had. I want to say it was about a 50 gram ball (so a bit over 100 yards, probably.) To be safe, I'll recommend 100 grams of whatever worsted weight you're using.
Sz 8 dpns
Gauge: 5 st/in, 6 rows/in
CO 28, Work in round in stockinette for 8 inches
Ruffle Rounds:
1: *K1, yo, repeat from *
2: K all
3. *K2, yo, repeat from *
4: K all
5. *K1, yo, repeat from *
6. BO using picot bind off as described
here
(CO 2 with cable cast on, bind off four, repeat around.)
*Edit, had to change the name because apparently the original name is trademarked by some company that makes fleecey things. Eh, whatever. Wristers works.
(the fine print: Your use of this pattern constitutes your agreement to use this pattern only for personal, non-profit use without specific written permission from the designer (just email me!) Items made from this pattern may not be sold without permission, nor may the pattern itself be copied, sold, or distributed in any way. You may print one copy for personal use. Please do not reproduce the text of this document on other sites- just post a link :-) Thanks guys!)
If you need to contact me with questions, my email address is presentsknits@gmail.com - please email instead of commenting since it's much easier for me to reply that way! Thanks!